Delta Striped Bass | Book a Trip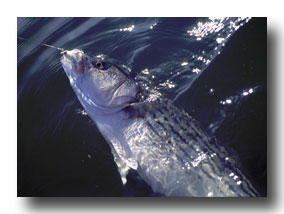 Stripers are aggressive, opportunistic feeders that love to smash baitfish in shallow water. Every year tackle-busting stripers over twenty pounds are caught on the flyby our clients. Nomadic by nature, stripers change feeding stations frequently depending on tide and water conditions. The ability to move quickly and locate areas fish are active ly feeding in is essential. Since 1994, FishFirst! has booked more trips and logged more hours on the water flyfishing for striped bass than any other guide service in Northern California. Our guides are extremely knowledgeable about striper habitat and excellent at finding fish. Our Coast Guard licensed captains guide out of 18' and 19' center console boats that allow two anglers to fish simultaneously. Each boat is equipped with a fast outboard motor, sidescan fishfinder, and remote controlled trolling motor.

Fish First! Delta guides intentionally limit their guiding to three days per week. That way you get an enthusiastic guide, and "fresh" stripers to fish over. As a result we encourage you to book early. Most November and December dates are typically booked by the end of August, and most January and February dates are booked by the end of December.

Fish First!'s striped bass guide services are based out of the Delta Bed & Breakfast, a beautiful recreation home on Bethel Island, immediately adjacent to Franks Tract. Accommodations are available exclusively for our guided clients. Walk out the door, step in the boat, and fishing is minutes away.