FlyfishFirst!™ Introductory Classes and FishWithUs!™ On-stream Clinics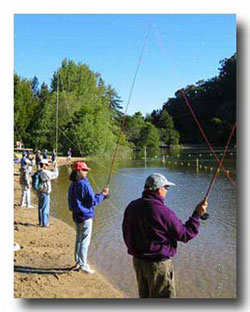 FlyfishFirst!™ classes and FishWithUs!™ clinics are the core of our instructional program. Each class and clinic is designed to provide our students with the specific knowledge and skills to become better fly anglers.
FlyfishFirst!™ classes give beginners a solid foundation in basic flyfishing skills. For more experienced anglers, we offer several flycasting and fly tying classes designed to strengthen your existing skills and broaden your flyfishing horizons. Our knowledgeable and enthusiastic instructors will speed up your learning curve and help make flyfishing a fun and rewarding experience. Whatever your current skill level or specific interests, we have a class that's right for you.

FishWithUs!™ clinics are the perfect way to learn new skills, refine old ones,or fix a bad habit that's been nagging you for years. Our friendly, top-notch instructors are eager to share their flyfishing knowledge and experience. Clinics are open to anglers of ALL skill levels. Students will leave clinics with the knowledge and confidence to flyfish on their own. On-stream clinic dates are chosen to coincide with optimum fishing conditions. Small clinic size ensures a low student-to-instructor ratio and plenty of individual attention and hands-on instruction. Fish better with a FishWithUs!™ clinic.

Select FishWithUs!™ clinics may be conducted on streams and rivers under Special Uses Permits with the Lassen & Plumas National Forests. The USDA Forest Service is an equal opportunity service provider and employer.

Meet our class and clinic instructors. Check our Calendar of Events for upcoming classes and clinics.

For a printed copy of the Fish First! Fishing Programs brochure download a .pdf file version.

Home
|
Terms of Use
|
Privacy Notice
|
Contact Us
|
Site Map
©1993-2007 Fish First ! All Rights Reserved Worldwide.